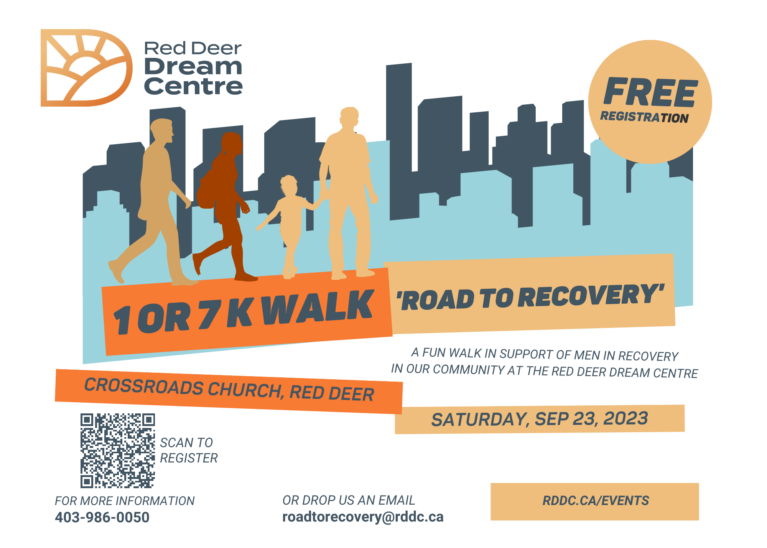 'Road to Recovery' is a fun walk in support of men in recovery in our community from the Red Deer Dream Centre on Saturday, September 23, 2023 at CrossRoads Church. Our goal is to raise $100,000.
A FREE pancake breakfast and check-in will begin at 10:30 AM. The walk goes from 11:30 Noon – 1:30 PM. The walk will be 1 km for Individuals, or 7 km for Teams (5+). Participant goals for individuals is $50 minimum, or $10 minimum for children. Waivers will be signed onsite. There will not be T-shirts for participants as you will receive water bottles.
Event Location
The walk will be held at CrossRoads Church located at 38105, Range Rd 275 (west side of Highway 2 at 32 Street) in Red Deer, Alberta.
Parking
Please park in the east parking lot. There will be signage to direct you.
Event Schedule
10:30 – 11:30am Participants check in and receive swag bag
10:30 – 11:30am FREE pancake breakfast for participants
11:10am Welcome message & raffle draw
11:30am The walk begins
Kid Zone
There is a bouncy castle and yard games at the event. A parent/guardian must complete the waiver form prior to a child participating. Please note, parents still need to monitor their children while in the Kid Zone.
Dogs
Dogs are NOT allowed to accompany walkers.
Signing up as a walk participant provides a bed, a meal, clothing, and hope for the future. Your support helps the Dream Centre to bring freedom and healing to individuals and allow them to become productive members of our community.
DONATE HERE OR register to walk individually or as a team.